Discussion
Draft Rater: Prospects first to worst
Updated:
June 18, 2009, 6:20 PM ET
By
John Hollinger
| ESPN Insider
The truth about analytical methods is that once in a while you'll get a result that flies in the face of conventional wisdom. When that happens, it means one of two things: 1. The analytics saw something that everybody else couldn't see. Or 2. Everybody else saw something that the analytics couldn't see. And in the case of two particular players in this year's NBA draft, it will be very interesting to find out the answer. The draft is Thursday, June 25, and now that we know who's in and who's out, it's time to unveil this year's Draft Rater -- a statistical projection of the top NBA prospects coming out of the college ranks.

To continue reading this article you must be an Insider
Insider
2009 NBA Draft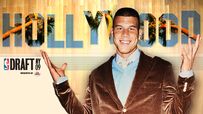 The 2009 NBA Draft is in the books.
Home
TODAY'S BEST
INSIDER: D.R.A.F.T. INITIATIVE