Discussion
D.R.A.F.T. Initiative: Best. Picks. Ever.
It's time to end the debate on the best and worst picks of the past 20 years
Updated:
June 23, 2009, 5:32 PM ET
By
Matt Meyers
| ESPN The Magazine
Like every NBA fan, you've probably spent countless hours debating and dissecting the draft. But here at Insider, we've decided to end these endless arguments. If you're just joining us now, using John Hollinger's estimated wins added (EWA) stat, trusty researcher Tom Haberstroh came up with a list of the average value of each draft pick dating back to 1989 (check out his methodology). He then took each player's EWA and calculated how much better or worse he performed relative to what should have been expected (eEWA). To calculate eEWA, he averaged the EWA of all the players taken at each spot since 1989. Here's what he found:
To continue reading this article you must be an Insider
Insider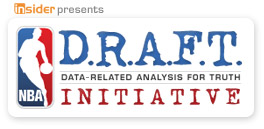 In the lead-up to the NBA draft on June 25, Insider digs deep with the D.R.A.F.T. Initiative. Make sure to check out our hubs for pick-based and team-based analysis, as well as the methodology behind our research.
THE D.R.A.F.T. INITIATIVE
MORE DRAFT COVERAGE