Discussion
For Clippers, lottery rarely a reward
No, Reggie Williams was not the next Michael Jordan ... and other tales
No team has had more lottery selections in the NBA draft since 1985 than the Los Angeles Clippers. They've had 20, more than the Golden State Warriors (16) or Sacramento Kings (13).
You will not be surprised to learn that only one of those 20 picks has become an All-Star while with the organization (Danny Manning).
That's one fewer All-Star than players who weren't drafted at all and became All-Stars during the lottery era (Ben Wallace and Brad Miller). According to ESPN Insider's ...

Read full story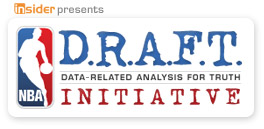 In the lead-up to the NBA draft on June 25, Insider digs deep with the D.R.A.F.T. Initiative. Make sure to check out our hubs for pick-based and team-based analysis, as well as the methodology behind our research.
THE D.R.A.F.T. INITIATIVE
MORE DRAFT COVERAGE