Discussion
NBA draft gallery: Hasheem Thabeet
Updated:
June 26, 2009, 1:22 PM ET
By
LZ Granderson
| Page 2
PREVIOUS PHOTO | NEXT PHOTO
Ben Tobar on Hasheem Thabeet's look: Hasheem really nailed it with this light-colored suit. He succeeds by putting a soft white shirt underneath to really display the pattern. I love the carefree tousled look of his pocket square. It definitely looks like he was running out the door and threw it in his breast pocket. We all know that's not the truth. I know I'm going to sound like a broken record, but tailoring is everything. There is a ton of material ...

Read full story
2009 NBA Draft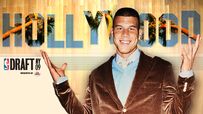 The 2009 NBA Draft is in the books.
Home
TODAY'S BEST
INSIDER: D.R.A.F.T. INITIATIVE