Discussion
NBA draft photo gallery: Blake Griffin
Originally Published:
June 26, 2009
By
LZ Granderson
| Page 2
Color is a tricky son of a gun.
Done correctly, you come across as fashion forward. Do it poorly, and well, you're Jalen Rose circa 1994. Fortunately for all involved, not only was this year's NBA draft rich in point guards, but it also was rich in smart fashion choices. Just in time for the opening of "Bruno."
"I was really expecting the worst," said Fern Mallis, a judge on Bravo's "The Fashion Show." "In the past, you would see a lot of poorly dressed, tacky players. ...

Read full story
2009 NBA Draft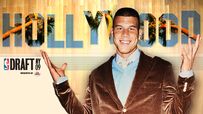 The 2009 NBA Draft is in the books.
Home
TODAY'S BEST
INSIDER: D.R.A.F.T. INITIATIVE