Discussion
NBA draft gallery: Ricky Rubio
Updated:
June 26, 2009, 1:21 PM ET
By
LZ Granderson
| Page 2
PREVIOUS PHOTO | NEXT PHOTO
Fern Mallis on Ricky Rubio's look: He looks adorable. The stripes in his shirt are very subtle, and that really works. It makes you pay attention to the detail. And the tailoring is nice, but I would've liked a little more. He seems young and thin, and I would've liked his suit cut a little closer. He looks young and youthful but not like a kid.
PREVIOUS PHOTO | NEXT PHOTO
Read full story
2009 NBA Draft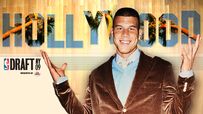 The 2009 NBA Draft is in the books.
Home
TODAY'S BEST
INSIDER: D.R.A.F.T. INITIATIVE