Discussion
NBA draft gallery: Stephen Curry
Updated:
June 26, 2009, 2:15 PM ET
By
LZ Granderson
| Page 2
PREVIOUS PHOTO | NEXT PHOTO
Ben Tobar on Stephen Curry's look: He succeeded with the pop of color, and the elegance of a three-piece suit never goes unnoticed. However, Stephen should consider a suit with a wider pinstripe. This would give him a much more broad appearance. Also, he looks a little washed out in his light tan suit. He would have appeared much nicer in a darker suit in contrast to his own complexion.
PREVIOUS PHOTO | NEXT PHOTO
Read full story
2009 NBA Draft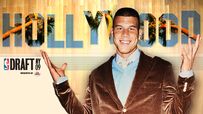 The 2009 NBA Draft is in the books.
Home
TODAY'S BEST
INSIDER: D.R.A.F.T. INITIATIVE