Discussion
Kelly bridging gap between NHL, union
It might not have been preordained, but it sure is curious that a dogged prosecutor out of Boston named Paul Kelly went after the crooked head of the National Hockey League Players' Association only to assume that very post years later.
And whether or not fate had anything to do with Kelly's unexpected ascension to one of the most important jobs in hockey, he certainly figures to be riding shotgun during some of the most important days in the NHL's long history.
"I think ...

Read full story
PRO SPORTS UNION LEADERS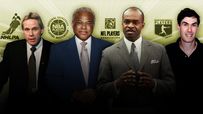 You might not know these men by sight. But chances are, you're all too familiar with the issues their sports face.