Discussion
48 Years at ICAST
Updated:
July 20, 2009, 12:20 PM ET
By
Ed Harp
| Bassmaster.com
"The American Sportfishing Association (ASA) has been holding an annual trade show since 1953. I've managed to attend 48 of them over my life in the fishing industry," says writer and television host Mark Sosin. "There have been a lot of changes over those years, too.
"The most obvious one is size. The show's much bigger now than it was in the early days. That reflects the growth of our industry. But size is only one of the changes. There have been others that are just as important."
The ...

Read full story
ICAST 2009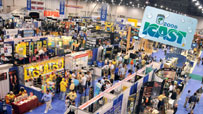 NEWS
PHOTO GALLERIES
VIDEOS