Discussion
Two decades of the World's Fastest Men
Their races and their stories: the world-record holders in the men's 100-meter dash
Updated:
August 14, 2009, 1:22 PM ET
By
Mike Fish
| ESPN.com
ESPN.com has traced the arc of the world records in the 100 meters over the past two decades and the sprinters who set them: the world's fastest men. Most still enjoy vivid memories of the day they touched greatness. Some have taken the title and etched a comfortable life for themselves. Others have been less fortunate. Sadly, a few have been unceremoniously stripped of the title, their names erased from the record books. Here are their stories. 9.79 seconds: BEN JOHNSON, Sept. 24, 1988
WORLD'S FASTEST MEN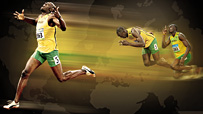 From Ben Johnson to Usain Bolt, here are the stories of the "World's Fastest Men."
THE RECORDS
INSIDER
ESPN The Magazine: Wherever Usain Bolt goes, an army follows. Yes, the toughest thing for him these days is staying ahead of expectations. Story
WATCH
ESPN360.com: Relive some of Usain Bolt's magic from one of his recent meets in Toronto. Launch