Discussion
Eli Manning seeks a comfort zone
ALBANY, N.Y. -- The Giants' receiving situation is sort of like that card-trick line: Pick a card, any card. Only with the Giants, you don't know if you'll come up with an ace, a jack or a joker.
"I don't know who our top three receivers are going to be right now," Eli Manning admitted Saturday.
He knows they won't be Plaxico Burress and Amani Toomer. They're gone and not coming back.
"It's a little different," Manning said with a smile. "So many times you stepped into the huddle ...

Read full story
MORT GOES TO CAMP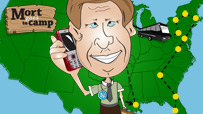 ESPN senior NFL analyst Chris Mortensen's 21-team bus tour of training camps is over. Mort's trip started in Arlington, Texas, where he met Dallas owner Jerry Jones at the team's new stadium and ended in Miami Gardens, Fla., for a visit with the Dolphins. Mort camp page


MORT'S CAMP SCHEDULE
8/3: Rams (St. Louis)
8/9: Browns (Berea, Ohio)
8/10: Steelers (Latrobe, Pa.)
8/11: Eagles (Bethlehem, Pa.)
8/12: Jets (Hempstead, N.Y.)
8/13: ESPN, Bristol, Conn.
8/14: Bills (Pittsford, N.Y.)
8/15: Giants (Albany, N.Y.)
8/17: Redskins (Ashburn, Va.)
8/20: Buccaneers (Tampa, Fla.)
ESPN FAN SHOP