Discussion
Owens returns to Bills' practice
Updated:
August 18, 2009, 3:04 PM ET
Associated Press
PITTSFORD, N.Y. -- Terrell Owens made a brief return to Buffalo Bills practice on Monday night to test his sprained toe that is getting better but not fully healed.
After stretching with teammates, Owens spent about 15 minutes running routes and catching passes in individual drills. He then took off his helmet and practice jersey, and pulled on a red baseball cap to watch part of the session before going for treatment.
Owens didn't speak to reporters after his first time back ...

Read full story
PRESEASON NFL COVERAGE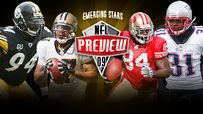 BLOGS
EMERGING STARS
AFC CAMP CONFIDENTIAL
NFC CAMP CONFIDENTIAL
FOOTBALL OUTSIDERS
COLUMNS/FEATURES