Discussion
There's a premium on sack machines
Draft, trades, signings reflecting emphasis on adding more QB baggers
Originally Published:
August 19, 2009
By
Len Pasquarelli
| ESPN.com
For most of the league's existence, the top priority for defensive excellence in the NFL has been stopping the run.
That remains the primary goal for every defense, of course, even in this era of high-tech offenses. But as the game has evolved into an aerial sideshow, one three-word admonition is closing the gap on "stop the run" as the mantra of choice for many defensive coordinators.
Get the quarterback.
Indeed, it has become a rallying cry of sorts.
"If it's ...

Read full story
PRESEASON NFL COVERAGE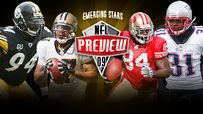 BLOGS
EMERGING STARS
AFC CAMP CONFIDENTIAL
NFC CAMP CONFIDENTIAL
FOOTBALL OUTSIDERS
COLUMNS/FEATURES