Discussion
NBA Offseason Buzz: New Jersey Nets
On a team stripped of stars, opportunities abound for younger players
Originally Published:
September 12, 2009
By and
Ric Bucher
| ESPN Insider

Want to know who's heating up for a big season on the hardwood? Insider is tapping into John Hollinger's projected player efficiency ratings to see who's trending up and down across the NBA. Ric Bucher rounds out the report by examining a pivotal player you'll want to watch as the season approaches. The series continues with the New Jersey Nets
.
Piece by piece, the Nets have stripped down, Vince Carter being the last superstar pawned off this summer for younger, less expensive, less accomplished talent. What's left is an intriguing mix: Brook Lopez, Yi Jianlian, Devin Harris and Courtney Lee are all easy to envision in contributing roles on a winning team someday. Intrigue never lasts 82 games, though, and it doesn't win games in the final seconds. It's hard to believe that this team is being built to win over hearts in their proposed new home, Brooklyn, rather than win over a prospective new owner looking for a low-cost (by NBA standards) investment. This team could easily finish last in the Eastern Conference.
To see which player is taking off, which is crashing to Earth and which name you'll need to know for the 2009-10 season, you must be an ESPN Insider.

To continue reading this article you must be an Insider
Insider
2009 NBA OFFSEASON BUZZ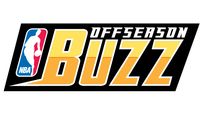 As the NBA offseason winds down and we gear up for the 2009-10 campaign, Insider taps into the insights of John Hollinger and Ric Bucher to examine who's rising, who's falling and who's worthy of extra attention on evey NBA roster.
Pacific Division
Northwest Division
Southwest Division
Atlantic Division
Central Division
Southeast Division
Note: For definitions of all of John Hollinger's advanced statistics, click here.