Discussion
Discontent early on for Sharks, Capitals
The San Jose Sharks visit the Washington Capitals on Thursday night.
Start rubbing your hands together with glee.
Two of the most prolific teams in the NHL squaring off.
Two teams that boast the top-scoring players since the lockout in Alex Ovechkin (432 points) and Joe Thornton (431) in a crucial, early season test for two Stanley Cup contenders.
Two teams that boast five of the top nine point-getters in this early NHL season in Ovechkin, ...

Read full story
THURSDAY NIGHT HOCKEY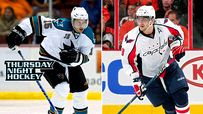 Thursday Night Hockey kicks off with our Game of the Week, Sharks versus Capitals:
GAME OF THE WEEK