Discussion
Kuroda's bad outing just the start
Awful Game 3 showing by righty puts Dodgers' rotation in turmoil for rest of NLCS
Originally Published:
October 18, 2009
By
Jorge Arangure Jr.
| ESPN The Magazine
PHILADELPHIA -- Soon after facing two large sets of media -- the first from Japan and the second from the United States -- Hiroki Kuroda walked to the Dodgers' clubhouse after answering the final question, puffed his cheeks and exhaled. Trapped by a phalanx of reporters, Kuroda appeared almost as if he had just endured an interrogation.
The crime was simple: Kuroda -- who allowed six runs in just 1 1/3 innings, the shortest outing of his major league career -- was guilty of throwing the ...

Read full story
NLCS GAME 3: PHILLIES 11, DODGERS 0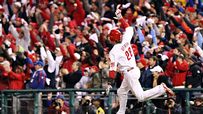 The Phillies' offense built a big lead early and then handed the game over to Cliff Lee. That combo led to an easy win and a 2-1 NLCS lead over the Dodgers.
STORIES
VIDEO