Discussion
A-Rod looking like A-Monster
Yankees slugger now a rampaging force, laying waste to Angels in ALCS
Originally Published:
October 20, 2009
By
Eric Neel
| ESPN.com
ANAHEIM, Calif. -- There was a time, way back in the second week of October, when Alex Rodriguez was a charming character, a heartwarming story.
He had bounced back. Slayed his dragons. Faced his demons. Thrown the postseason monkey off his back.
His teammates were happy for him. His manager gushed about how nice it was to see his slugger so comfortable, so at ease.
Those days are over. Mark it down. Rodriguez is no longer the fragile psyche who has ...
Read full story
ALCS GAME 4: YANKEES 10, ANGELS 1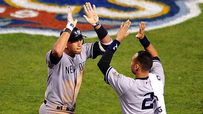 Alex Rodriguez and CC Sabathia were too much for the Angels, as the Yankees rolled to a 10-1 victory and a 3-1 series lead. ALCS page
STORIES
VIDEO