Discussion
A-Rod whiffing in first Series opportunity
Yankees are in big trouble unless Rodriguez can recover from his 0-for-8, six-K start
NEW YORK -- A-Rod to K-Rod? That will be the knee-jerk reaction to Alex Rodriguez's World Series plunge into Oh-fer Land. And for once, the knee has a point.
Scalding hot in the two previous rounds of this postseason, Rodriguez is now colder than those $10 draft beers they're selling at the Yankee Stadium concession stands. His numbers are boo-grade material: Eight at-bats. Zero hits. Six strikeouts.
"It's eight at-bats," Rodriguez said. "I'm not concerned at all."
Rodriguez's ...
Read full story
WORLD SERIES GAME 2: YANKEES 3, PHILLIES 1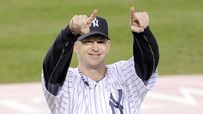 Pedro Martinez was good, but A.J. Burnett was better in Game 2 as the Yankees evened up the World Series at one apiece. World Series page »
STORIES
VIDEO