Discussion
World Series Game 4 news and notes
Updated:
November 2, 2009, 10:42 AM ET
ESPN.com
The New York Yankees beat the Philadephia Phillies 7-4 on Sunday night to take a 3-1 lead in the World Series. The following are some notes from Game 4.
The credit for this information goes to our contributors from ESPN's Stats & Information team: Doug Kern, Mark Simon, Katie Sharp, Jason McCallum and Jeremy Mills. NEW YORK YANKEES • The Yankees have led 3-1 in a best-of-seven series 14 previous times, including this year's American League Championship Series. They ...
Read full story
WORLD SERIES GAME 4: YANKEES 7, PHILLIES 4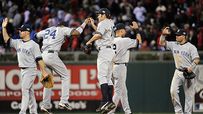 The Yankees stand one win away from their 27th title after Alex Rodriguez sparked a three-run ninth to take a commanding 3-1 series lead over Philly. World Series page »
STORIES
VIDEO