Discussion
Tide turning on perception of Patriots?
Belichick's fourth-and-2 call the latest in a troubling trend on big stage
Updated:
November 19, 2009, 4:28 PM ET
By
Howard Bryant
| ESPN.com
For the first time, New Englanders are witnessing a prolonged view of the other side of genius. The psychology of Bill Belichick costing his team a chance to win seems more important than the ill-fated Decision itself. It has become less a football call that didn't work and more a referendum on the current state of the Patriots in the football continuum.
Belichick blinked. He panicked. He feared a Peyton Manning winning drive more than he trusted a victory-preserving Patriots defensive ...

Read full story
COLTS 35, PATRIOTS 34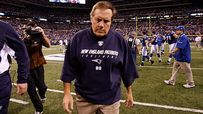 A controversial fourth-down call by Bill Belichick gave Peyton Manning one last chance and he converted, leading the Colts to a stunning comeback win. Recap »
STORIES
SPORTSNATION
VIDEO
AUDIO