Discussion
Least valuable pitcher of the 2000s
And the anti-Cy Young Award goes to … right-hander and Aruban knight Sidney Ponson
In July 2006, when the New York Yankees took a flier on troubled pitcher Sidney Ponson, general manager Brian Cashman expressed hope that Ponson's recovery from alcohol issues might lead to a new and more productive phase of his career.
"He's been dry since August," Cashman told reporters.
In hindsight, that might be the nicest thing a major league executive has said about Ponson in the past five years.
Ponson was far from the worst pitcher to don a big league uniform in the ...

Read full story
BASEBALL'S BEST AND WORST OF THE DECADE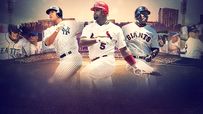 Monday, Dec. 14
Tuesday, Dec. 15
Wednesday, Dec. 16
Thursday, Dec. 17
Friday, Dec. 18
Saturday, Dec. 19
Monday, Dec. 21
Tuesday, Dec. 22
Wednesday, Dec. 23