Discussion
Saying goodbye to the aughts
What a decade! Let's see how well you remember the important details with our trivia quiz.
BASEBALL
1. Who hit the most home runs in the decade (435)?
(a) Alex Rodriguez (b) Albert Pujols (c) Jim Thome (d) Manny Ramirez (e) Victor Conte
2. Which pitcher won the most games this decade (148)?
(a) Jamie Moyer (b) Randy Johnson (c) Andy Pettitte (d) Roy Halladay (e) Mike Hampton (f) Whoever was playing the Royals
3. Which of the following events did not happen?
(a) ...

Read full story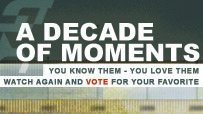 ESPN CLASSIC BEST GAMES: DEC. 26-JAN. 2
BEST OF THE DECADE
DECADE TRIVIA QUIZ
NHL
BASEBALL
NBA
SOCCERNET
HIGH SCHOOL SPORTS