Discussion
Most Valuable Player of the decade
Albert Pujols, who hit for the NL Triple Crown in the '00s, is the runaway winner
Originally Published:
December 23, 2009
By
Jayson Stark
| ESPN.com
Sorry, A-Rod. Sorry, Barry. Sorry, Ichiro. Sorry, Derek. The MVP of the '00s can only be one man -- Sir Albert Pujols.
After all, what didn't Sir Albert do in this decade, outside of forgetting to get to the big leagues until 2001, neglecting to finish in the top four in the MVP voting once and never quite getting around to winning any Nobel Peace Prizes?
Well, here's one thing Pujols did win: the National League Triple Crown. For the whole stinking decade. And I could just about ...

Read full story
BASEBALL'S BEST AND WORST OF THE DECADE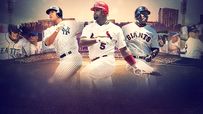 Monday, Dec. 14
Tuesday, Dec. 15
Wednesday, Dec. 16
Thursday, Dec. 17
Friday, Dec. 18
Saturday, Dec. 19
Monday, Dec. 21
Tuesday, Dec. 22
Wednesday, Dec. 23