Discussion
Farewell to a few more sports stars
Originally Published:
December 31, 2009
Page 2
As we get ready for 2010, we also look back at 2009 -- specifically the players, coaches and other sports figures who called it a career in the past calendar year.
On Monday, we said farewell to some NFL stars. On Tuesday, we paid tribute to several NBA fixtures. On Wednesday, it was Major League Baseball's turn. Now, we bid adieu to people from all the other sports out there.
This isn't a comprehensive list -- just a few of our favorites. The greats, and those you might ...

Read full story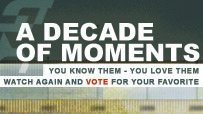 ESPN CLASSIC BEST GAMES: DEC. 26-JAN. 2
BEST OF THE DECADE
DECADE TRIVIA QUIZ
NHL
BASEBALL
NBA
SOCCERNET
HIGH SCHOOL SPORTS