Discussion
Line of truth starts behind McGwire
Other suspected PEDs users need to take that step forward now, too
Big Mac had been living the Big Lie. Until Monday.
Monday is when the weight of all those steroids and HGH vials, all those syringes and all that guilt was finally lifted from Mark McGwire's shoulders. Monday is when he admitted -- five years late, by the way -- what we suspected all along: that he used performance-enhancing drugs during large portions of his career, including his now fraudulent 70-homer season in 1998.
"I wish I had never touched steroids," McGwire said in a statement ...

Read full story
MARK MCGWIRE COMES CLEAN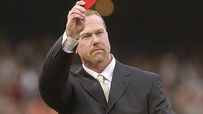 Mark McGwire admitted Jan. 11 that he used steroids on and off for nearly a decade, including during the 1998 season when he broke the then single-season home run record.
NEWS
ANALYSIS
VIDEO
AUDIO
SPORTSNATION
PAST LINKS