Discussion
Davis knew McGwire used PEDs
Updated:
January 11, 2010, 9:30 PM ET
Associated Press
WASHINGTON -- Mark McGwire's admission that he used steroids came as no surprise to the man who brought the slugger before Congress.
Former Rep. Tom Davis, a Virginia Republican, was the chairman of the House Government Reform Committee on March 17, 2005, when McGwire repeatedly testified that he would not "talk about the past" when lawmakers asked him about performance-enhancing drugs.
In a telephone interview Monday with The Associated Press, Davis said he met for three hours with ...

Read full story
MARK MCGWIRE COMES CLEAN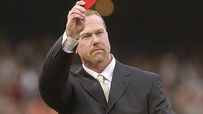 Mark McGwire admitted Jan. 11 that he used steroids on and off for nearly a decade, including during the 1998 season when he broke the then single-season home run record.
NEWS
ANALYSIS
VIDEO
AUDIO
SPORTSNATION
PAST LINKS