Discussion
McGwire still not taking responsibility
Onetime strongman offers conflicted admission, weak excuses for steroids use
Updated:
January 12, 2010, 1:25 PM ET
By
Tim Keown
| ESPN.com
Mark McGwire is a broken man. He's a tortured, conflicted soul. Whatever joy he received from his baseball career appears long gone, smothered under the weight of his conscience.
On his big day of admission and contrition, McGwire was wildly contradictory. His admission came unburdened by responsibility. He used steroids, but in his case, performance-enhancing drugs didn't help his performance. He attributed his transgressions to an era, and at times he placed the blame at the feet ...

Read full story
MARK MCGWIRE COMES CLEAN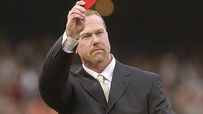 Mark McGwire admitted Jan. 11 that he used steroids on and off for nearly a decade, including during the 1998 season when he broke the then single-season home run record.
NEWS
ANALYSIS
VIDEO
AUDIO
SPORTSNATION
PAST LINKS