Discussion
Saints are Super Bowl-bound unless …
… the Vikings make just as persuasive an argument to win the NFC title instead
I'm 100 percent sure the New Orleans Saints will beat the Minnesota Vikings in Sunday's NFC Championship Game. Other than getting lucky on your wedding night, this is the closest thing to a lock.
Seriously, how can you not pick the Saints? They're the No. 1 seed and have the No. 1 scoring offense in the league. Big whoop. The Vikings are the No. 2 seed and have the No. 2 scoring offense (29.4 points per game versus the Saints' 31.9), so it's not as if the Saints' O has lapped ...
Read full story
2009 NFL PLAYOFFS: ROAD TO MIAMI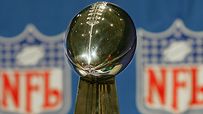 Who will supplant the Steelers as champions? The Colts and Saints will square off in Super Bowl XLIV on Feb. 7 in Miami.
COMMENTARY/BLOGS
CHAMPIONSHIP GAMES
Colts 30, Jets 17
Saints 31, Vikings 28 (OT)
DIVISIONAL ROUND
Vikings 34, Cowboys 3
Jets 17, Chargers 14
Saints 45, Cardinals 14
Colts 20, Ravens 3
WILD-CARD GAMES
Jets 24, Bengals 14
Cowboys 34, Eagles 14
Ravens 33, Patriots 14
Cardinals 51, Packers 45 OT