Discussion
Yankee Stadium isn't a hitters' haven
Balls flew out of the new park en masse in '09, but there were few doubles and triples
Originally Published:
January 22, 2010
By
Rob Neyer
| ESPN.com
Editor's note: Hot Stove U. is a six-week course devoted to higher learning, a series consisting of 30 need-to-know topics for 2010.
The setup
Shortly into last season,
Buster Olney reported
, "A number of rival executives wrote e-mails late Saturday indicating that they'd heard from their own scouts and other sources that new Yankee Stadium plays very, very differently than old Yankee Stadium."
Simply put, home runs were flying out of there like nothing we'd seen since the pre-humidor Coors Field. In the New York Yankees' second game in their new home, they hit five home runs. In the Yankees' third game, they gave up six home runs. That pace couldn't continue, and didn't. Already, though, the new ballpark's reputation had been established as a great place to hit home runs. After a full season, though, is that reputation deserved? Well, yes. The new Yankee Stadium is almost certainly an excellent place for a power hitter. Last season there were 237 home runs in the Yankees' home games -- 136 for the Yanks, 101 for their enemies -- but only 188 in the Yankees' road games. Percentagewise, that difference was the largest in the major leagues. So it must be a hitters' park, right?
Not so fast. It might sound counterintuitive, but a good home run park isn't necessarily a good hitters' park. To see Rob Neyer's explanation, including evidence of the type of extra-base hits that are suppressed in the new stadium, you must be an ESPN Insider.
Insider
SERIES SYLLABUS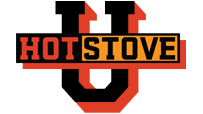 Hot Stove U., which runs from Jan. 11 to Feb. 18, taps into the vast knowledge of ESPN's diverse collection of contributors and presents 30 need-to-know topics for 2010.
MONDAY, JAN. 11
TUESDAY, JAN. 12
WEDNESDAY, JAN. 13
THURSDAY, JAN. 14
FRIDAY, JAN. 15
MONDAY, JAN. 18
TUESDAY, JAN. 19
WEDNESDAY, JAN. 20
THURSDAY, JAN. 21
FRIDAY, JAN. 22
MONDAY, JAN. 25
TUESDAY, JAN. 26
WEDNESDAY, JAN. 27
THURSDAY, JAN. 28
FRIDAY, JAN. 29
COMING MONDAY
16. Why MLB's competitive balance is better than you realize