Discussion
Johnny Damon a good fit in Cincy
Originally Published:
February 8, 2010
By
Tim Kurkjian
| ESPN The Magazine
Editor's note: Hot Stove U. is a six-week course devoted to higher learning, a series consisting of 30 need-to-know topics for 2010.
The setup
Johnny Damon
is still looking for a job, and he's perhaps the best free agent still looking. He is a good offensive player coming off a very good offensive season: .282 average, .365 on-base average, .489 slugging percentage and 12 steals (no caught stealing) for a team that won the World Series. He is, by all accounts, a very good teammate, and a good guy in the clubhouse. It seems the biggest reason he didn't return to the Yankees is that he wanted $13 million a year, which is what he made last season. He's not going to get close to that from any team. But he's going to get a job. And it should be … for the
Cincinnati Reds
.
To find out why Damon is a perfect fit for the Reds, and how he could save Dusty Baker's job, you must be an ESPN Insider.
Insider
SERIES SYLLABUS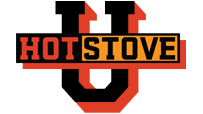 Hot Stove U., which runs from Jan. 11 to Feb. 18, taps into the vast knowledge of ESPN's diverse collection of contributors and presents 30 need-to-know topics for 2010.