Discussion
Charles closes in on career marks
Senior could take over both UConn records Monday at Notre Dame (ESPN2, 7 p.m. ET)
Updated:
March 1, 2010, 11:33 AM ET
ESPN.com
UConn is chasing its own win streak. Tina Charles is chasing Rebecca Lobo and Nykesha Sales.
As the Huskies close in on Win No. 70, which would tie the women's NCAA Division I win streak set by UConn in 2001-03, all eyes are focused on Big Monday's matchup at Notre Dame and then the Big East tournament. If UConn keeps winning, the Huskies could tie the record Sunday in the Big East quarterfinals. Win No. 71 would come the following day in the tournament semifinals. Dating to their ...

Read full story
UConn's March To 71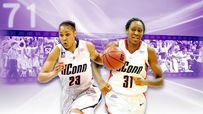 On Monday, Connecticut broke the women's NCAA Division I win streak of consecutive victories with a 71st win in a row, breaking the Huskies' string of 70 straight wins in 2001-03.
Stories
•
Voepel: UConn as close to perfect as possible
•
Recapping 1-71: Memorable wins along way
•
Comparing the streaks statistically
•
Experts' favorite moments from streak
•
Voepel: UConn endures little drama in streak
•
Voepel: '70s Oscar nominations for 70 wins
•
Voepel: Geno's confidence boosts Charles
•
Voepel: Numbers pile up for UConn, Charles
•
Hays: Defense is UConn's biggest weapon
•
Voepel: Comparing UConn's streaks
•
Charles now UConn's top scorer, rebounder
Video highlights
•
UConn notches record-setting 71st straight win
•
Jeremy Schaap: Big deal, but little buzz
•
Experts: How great is UConn's streak
•
Doris Burke breaks down the streak
•
UConn ties NCAA mark with 70th win in a row
•
Charles tops UConn career points, boards
•
Lobo's Five Questions with Tina Charles
•
Moore tallies 38 points, 20 rebounds
•
UConn extends streak to 65
Recaps
•
Win No. 71: UConn 59, Notre Dame 44
•
Win No. 70: UConn 77, Syracuse 41
•
Win No. 69: UConn 76, Notre Dame 51
•
Win No. 68: UConn 84, Georgetown 62
•
Win No. 67: UConn 87, Syracuse 66
•
Win No. 66: UConn 85, Providence 53
MORE WOMEN'S BASKETBALL HEADLINES