Discussion
Playing out the bubble
Memphis, Washington, Dayton and Minnesota should benefit from Championship Week
Originally Published:
March 9, 2010
By
Matt Meyers
| Special to ESPN Insider
The bubble this year is, typically, fairly confusing; ESPN Bracketologist Joe Lunardi currently has it as 20 teams battling for nine spots.
With all those teams heading into Championship Week -- some starting today -- let's look at the paths they need to take to get off said bubble before Sunday.
Here's what we are going to do. Based on the most recent Lunardi Odds Rundown, we'll look at 12 teams -- the last four in, the first four out, and the next four out. We will then look at each team's first conference tourney opponent as well as possible subsequent opponents. To determine who will win these hypothetical matchups, we will use adjusted scoring margin (found here) -- this metric measures margin of victory in conjunction with a team's strength of schedule, making it a strong predictive power rating.
In each case, the higher ASM wins. Remember, Bracketology is a snapshot, and not a projection, and a lot can change in the next week.
The Last Four In
This is actually a fairly cool article -- it takes 12 squads and plays out how their conference tourney runs should go. Of course, upsets do always happen, but this is an excellent primer to who has the best chance of getting off the bubble. To consume it, you need to be an ESPN Insider.
Insider
Insider's Bracket Bundle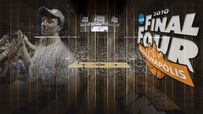 Insider helps college basketball fans stay on top of the NCAA tournament field as it forms.
Joe Lunardi: Behind the Bracket
Insiders get Bracketology details the rest of the public doesn't. See which teams and which games are impacting the bracket, why it's moving and what may happen next.
Lunardi's Tournament Odds/Rundown
Bracketology tells you only how the bracket looks on that day. Lunardi's odds tell you how it's likely to look come Selection Sunday.
Bubble Insider
See which bubble teams are bound to get bounced and which are likely to crack the field of 65.
Inside the Bracket
Hard-core analysis of squads set to endure the Madness of March.
Regional Breakdowns
See how the teams stack up in each region of Bracketology.
Resources
MORE MEN'S COLLEGE BASKETBALL HEADLINES