Discussion
Dance Lessons: Live by the 3 ...
... die by the 3? Another tourney truism is put to the test
Originally Published:
March 15, 2010
By
Matt Meyers
| ESPN The Magazine
Back before Rick Pitino won a national title at Kentucky in 1996 with an offensive strategy built on the 3-point shot, there was a long-held belief that a team that relied so heavily on the 3 could not win it all. As you've probably heard an announcer say at some point, "If you live by the 3, you'll die by the 3." And even though Kentucky won it all while relying on triples, recent history tells us that the Wildcats were the exception that proves the rule. And that does not bode well for a few top contenders from the Big Ten, Big East and ACC.
To see which teams rely on the 3-pointer and what that means for their tournament chances, plus get access to all of Insider's NCAA tournament content, sign up today.
Insider
NCAA TOURNAMENT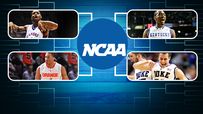 SWEET 16
SUNDAY
SATURDAY
FRIDAY
THURSDAY
STORIES
SELECTION SUNDAY
VIDEOS
TOURNEY TOOLS
INSIDER
BLOG NATION
ESPN COLLEGE BASKETBALL ENCYCLOPEDIA
MORE MEN'S COLLEGE BASKETBALL HEADLINES