Discussion
Pohlen follows script for winning play
SACRAMENTO, Calif. -- It looked like 4.4 seconds of frenzied madness, a haphazard, anything-goes, coast-to-coast race for one final shot to end the game in regulation.
And Stanford's Jeanette Pohlen delivered, taking an inbounds pass from under her own basket, streaking down the left side of the court and then crossing over for a layup that left her hand with a millisecond remaining on the clock.
Off the backboard. Off the rim. In.
Despite off ...

Read full story
NCAA WOMEN'S TOURNAMENT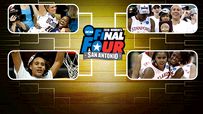 NATIONAL CHAMPIONSHIP
VIDEO
FINAL FOUR
TOURNEY TOOLS
MORE WOMEN'S BASKETBALL HEADLINES