Discussion
Shooting ghosts
Updated:
March 31, 2010, 11:59 AM ET
By
Steve Bowman
| ESPNOutdoors.com
CHIEFLAND, Fla. -- At 7:10, the sun was painting the few wisps of clouds stringing across the sky a hue of purple.
Turkey hunters notice those celestial things, even though they don't want to. The only time they pay attention to the color of the clouds is when the turkeys aren't gobbling. If the turkeys are ringing the trees, it's typically dark. By the time the sun reaches the horizon, turkey hunters have other things to focus on.
PHOTO GALLERYTurkey Trek
Minutes before ...

Read full story
2010 TURKEY TREK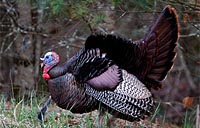 (click photo to see photo galleries)
Stops and Hunts
Remington
Video
Features
Resources