Discussion
The start of something big
Roy Halladay is about to make the NL's best team even better.
Updated:
April 21, 2010, 12:37 PM ET
By
Tim Keown
| ESPN The Magazine
This story appears in the May 3 issue of ESPN The Magazine.
Shortly after Roy Halladay's second National League at-bat resulted in a 35-foot RBI single, Phillies manager Charlie Manuel got the idea to take a stroll to the other end of the dugout to have a brief chat with his newest power hitter. Partway there, Manuel took a look at Halladay -- eyes fixed on the field like a hawk on a lizard --- and realized something important: He's had better ideas over the course of his ...

Read full story
ESPN The Magazine: May 3, 2010 Issue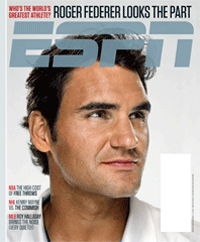 Check out all the content from ESPN The Magazine's May 3, 2010 issue. Where noted, the content is for ESPN Insiders.
May 3, 2010 Issue