Discussion
Viva el Rio!
Updated:
April 30, 2010, 12:21 PM ET
By
David Hunter Jones
| Staff writer BASS Publications
LONESOME OAKS RANCH, Texas — I slid the safety off Troy Syfrett's Remington 870 Express Magnum, and as I began to raise the gun, the bird's glare shot directly at me.
I froze, unable to breathe. As his head went back down, I inched it up again. Another glare. By this time I was as focused as an ADHD diagnosee can be.
"Take him!" Syfrett said.
Now, I've shot plenty of shotgun in my life. Trap, skeet, action courses, quail hunts — you name it, I've probably done ...

Read full story
2010 TURKEY TREK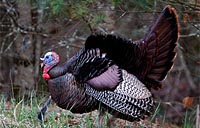 (click photo to see photo galleries)
Stops and Hunts
Remington
Video
Features
Resources