Discussion
Plugging the holes: AFC South
In a division with Peyton, three teams need secondary help. Gulp.
Originally Published:
May 7, 2010
By
Tom Gower
| Football Outsiders
How this works: Back on Feb. 18, Tom Gower and Vince Verhei of Football Outsiders penned this piece on pre-draft needs for AFC South squads. With the draft done -- check Mel Kiper Jr.'s grades here and Todd McShay's grades here -- Gower revisits the AFC South as May begins.

The Texans used their first two picks in the 2010 NFL draft wisely. In the first round, they selected Kareem Jackson to fill the hole at cornerback created by the departure of Dunta Robinson. In the second, they added Ben Tate to share the load at running back in case Steve Slaton isn't able to rebound to his rookie form.
The AFC South basically boils down to this -- can anyone top Indy? If you analyze these post-draft needs, you'll see the answer is "Probably not right now, but maybe in a bit ..." For more intel, become an Insider.
Insider
Post-Draft NFL Coverage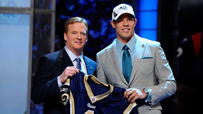 255 picks up, 255 picks down -- from Sam Bradford to Timothy Toone. So, on the path to September, what have we learned -- and what do teams still need?
Draft Grades
Football Outsiders