Discussion
T.O could be difference-maker in 2010
Owens' numbers actually show him as having a lot left, just not against Revis
Updated:
May 13, 2010, 9:44 AM ET
By
KC Joyner
| ESPN Insider
The NFL can be an unforgiving arena for players if they lack talent, but it can be a very forgiving place for those who have an abundance of physical skills. Michael Irvin, Ray Lewis, Paul Hornung and Joe Namath are prime examples of people whose controversial exploits might have forced them out of the league had they not been blessed with elite football abilities.
That same willingness to overlook potentially unappealing personality aspects used to apply to Terrell Owens, but that isn't the case today. As colleague Adam Schefter notes in his blog (third question), the consensus opinion around the league seems to be that Owens is no longer a top-notch wideout; therefore, it isn't worth the possible on and off-field issues that signing him would entail.
The problem with this line of thinking is that there are more than a few reasons to believe Owens still has a starter's-level worth of gas left in his tank -- and three of his 2009 metric measurements stand out as proof of this.
Owens' metrics are still elite -- that's what you'll learn after the jump. But against Darrelle Revis? Not so much. KC also makes an interesting psychological point at the end. For all this and more, you must be an ESPN Insider.
Insider
Post-Draft NFL Coverage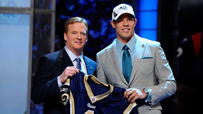 255 picks up, 255 picks down -- from Sam Bradford to Timothy Toone. So, on the path to September, what have we learned -- and what do teams still need?
Draft Grades
Football Outsiders