Discussion
Pipeline: Impact boosts USC to top
The Trojans have produced five elite professionals; Miami has produced one
Updated:
May 13, 2010, 10:38 AM ET
By
Jeff Dooley
| Special to ESPN Insider
Based on raw numbers alone, the Miami Hurricanes were a logical choice as the pre-eminent college-to-NFL pipeline (something Insider discussed yesterday). The Hurricanes nearly lapped the field with 39 pipeline-eligible players (guys with at least one Pro Bowl appearance, AP first- or second-team honors, offensive or defensive player of the year award, or MVP trophy on their résumés). The second-place USC Trojans had only 25.
But when you examine the impact of players, you realize USC might have made a better choice. All pipelines, apparently, are not created equal.
ACC vs. Pac-10! Let's get it on! In all seriousness, though, this is a fairly compelling argument, because unless you consider Edge or Jeremy Shockey to be a truly elite professional, well, USC might be the real winner here. For the argument, you must be an ESPN Insider.
Insider
COLLEGE TO NFL PIPELINE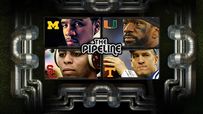 Which college football team produced the best NFL pipeline during the past three decades? We determine the best in a playoff.
Mark Schlabach »
Bracket »
FINAL
SEMIFINALS
ROUND 2
ROUND 1
FEATURES
VIDEO
SPORTSNATION
MORE COLLEGE FOOTBALL HEADLINES