Discussion
Many happy returns ... maybe
Recovery will play role in fate of Pats, Saints and more in 2010
Updated:
May 18, 2010, 12:37 PM ET
By
Aaron Schatz
| Football Outsiders
Tom Brady's knee. Drew Brees' shoulder. Peyton Manning's infection. In the past few years, we've learned that health can trump even the biggest talents in the game. Heading into the 2010 NFL season, there are several injuries that could affect the fortunes of teams. With training camps just weeks away, here's the six-pack we're watching most closely:

Estimated return: September

Welker isn't just dealing with an ACL reconstruction; he also used his time off to get his rotator cuff repaired. Both are serious injuries on their own, but there's really no overlap. Both should heal in about the same amount of time as they would alone, and both will be taxed when he returns. The ACL is the tougher return for Welker's style of play. His cuts and speed will be affected by changing the geometry and stability of his knee. Although football players used to come back in 12 to 18 months, recent advances in the surgery and the rehab have reduced that to six to nine months. There is an adjustment period while the player regains the proprioception, or "feel," and confidence in the knee, so watch Welker early. When you see him cutting out of that bubble screen like he used to, he's back.
The Pats aren't the only ones with an injury-related question mark. See who else may be helped or hindered by the return of the previously wounded by becoming an ESPN Insider.
Insider
Post-Draft NFL Coverage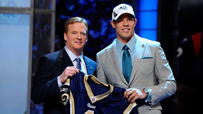 255 picks up, 255 picks down -- from Sam Bradford to Timothy Toone. So, on the path to September, what have we learned -- and what do teams still need?
Draft Grades
Football Outsiders