Discussion
Postcards from the edge
Life on the road has its ups and downs. Athletes reveal all to ESPN The Magazine
Updated:
May 27, 2010, 10:57 AM ET
By
Eddie Matz
| ESPN The Magazine
This article appears in the May 31 "Travel Issue" of ESPN The Magazine; you can find all the contents of that issue here.
Editor's Note: The Bowe quote below -- which has garnered some attention online -- is referenced by another Magazine contributor, "MLB Player X," in this post.
Adam Lind, Toronto Blue Jays
When I was a rookie, in 2006, the vets made us all wear diapers on a flight from Detroit to New York. Luckily, we didn't have to go through airport security, although that would have been a fast trip through the metal detector. We got dropped off in New York -- all of us rookies -- five blocks from the hotel. All the tourists wanted to take pictures with us. I don't think they even realized we were ballplayers; they just thought we were a spin-off of the Naked Cowboy. We pretty much spent the whole trip in diapers. We had no choice -- when the game is over and all of your stuff is gone from your locker and all that's left is a diaper, what are you supposed to do? We were fortunate the veterans chose New York. In Kansas City, we might have been sitting in a jail cell ... in diapers.
Max Starks, Pittsburgh Steelers
A few years ago, we were in Philadelphia to play the Eagles. We check into the hotel the afternoon before the game and grab our room keys -- 53 large human beings trying to get to our rooms all at once and not enough elevators to get us to them. I -- being the genius that I am -- decide to try the service elevator, and the rest of the offensive line follows. James Harrison, a linebacker, does too. We figure we'll all fit; the service elevator has a higher weight capacity, right? We pile in, it takes off, jerks, goes a little way, then stops. Harrison freaks out, pries open the door and crawls out even though the thing is stuck between floors. Once he does, though, we move nicely. See? A lineman didn't cause the problem. It was one of the little guys.
To read more athletes' adventures from the road, you must be an ESPN Insider.
Insider
ESPN The Magazine's Travel Issue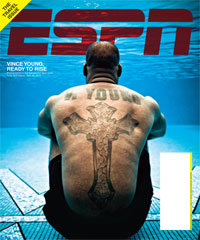 Check out all the content from ESPN The Magazine's May 31, 2010, issue (The Travel Issue). Where noted, the content is for ESPN Insiders.
Editorial Content