Discussion
Rest and relaxation
Vince Young heads to Turks and Caicos for some much-deserved sand and surf
This feature appears as the cover story of ESPN The Magazine's "Travel Issue." You can access the full contents by going here.
Vince Young's Vacation Day 1 Five-plus hours into his flight from Nashville to the Caribbean islands of Turks and Caicos, Titans quarterback Vince Young looks out the window like a kid on his way to Disneyland, eager for that first glimpse of roller coasters peeking out between the trees. Stretched out -- as much as a 6'5" guy can stretch even ...

Read full story
ESPN The Magazine's Travel Issue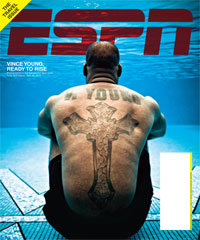 Check out all the content from ESPN The Magazine's May 31, 2010, issue (The Travel Issue). Where noted, the content is for ESPN Insiders.
Editorial Content