Discussion
Photo Gallery: Athlete travel musts
To beat the road blues, jocks pack loads of personal treasures
Updated:
May 20, 2010, 2:11 PM ET
By
Sam Alipour
| ESPN The Magazine
« PREVIOUS: Ellery Hollingsworth's candles and incense
FAN
Bronson Arroyo, P, Cincinnati RedsPhoto by Ture Lillegraven
Why I pack it: "Growing up in the Florida Keys, my parents didn't have central air or heat. Instead, I went to sleep every night with the loud humming sound from our window AC unit. Now I can't sleep in silence. Because today's hotels have quiet, state-of-the-art AC, I take a fan. The smaller and louder, the better. "
NEXT: ...

Read full story
ESPN The Magazine's Travel Issue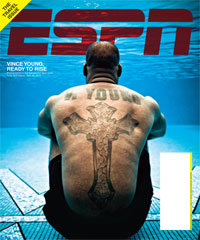 Check out all the content from ESPN The Magazine's May 31, 2010, issue (The Travel Issue). Where noted, the content is for ESPN Insiders.
Editorial Content