Discussion
Photo Gallery: Athlete travel musts
To beat the road blues, jocks pack loads of personal treasures
Updated:
May 20, 2010, 2:28 PM ET
By
Sam Alipour
| ESPN The Magazine
« PREVIOUS: Bronson Arroyo's fan
CONDOMS
Jamie Sterling, Big Wave surferPhoto by Ture Lillegraven
Why I pack 'em: "I'm not the only athlete who believes in safe sex, but I'm the most prepared. I bring condoms according to the length of my stay, but on average I have 12 on me at all times, just in case. Four or five for me, the rest for friends. When your buddies are unprepared, and you hook them up with the condom that seals their deal, it makes you ...

Read full story
ESPN The Magazine's Travel Issue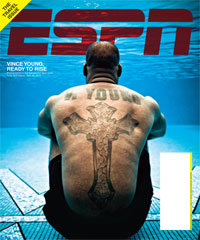 Check out all the content from ESPN The Magazine's May 31, 2010, issue (The Travel Issue). Where noted, the content is for ESPN Insiders.
Editorial Content