Discussion
Can we please have more replay now?
A perfect game is gone, but baseball can easily fix this problem
Originally Published:
June 2, 2010
By
Jayson Stark
| ESPN.com
It's time once again to say those four words Bud Selig doesn't want to hear:
We need more replay.
Yeah, I know they're easy words to blurt out when I'm here, blurting, a half-hour after a debacle of a blown call cost Armando Galarraga a perfect game in Detroit on Wednesday night. But just for the record, I've blurted this before. Many times.
I don't want to expand the replay system to include every ball, every strike, every trap, every catch and, especially, every call at first ...

Read full story
MISSED PERFECTION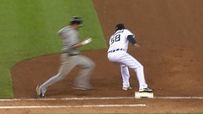 STORIES
VIDEO
POLLS
AUDIO