Discussion
Imperfect Selig ditches perfect game
Legendary Yankee Don Larsen, baseball fans mourn on day Bud will come to regret
Updated:
June 4, 2010, 10:51 AM ET
By
Ian O'Connor
| ESPNNewYork.com
NEW YORK -- Bud Selig had matched Jim Joyce with his own dreadful call, and you wanted to know how a nation felt about its national pastime. You wanted to know how stolen immortality tasted to millions of mortal fans who wanted to keep it and cherish it almost as badly as Armando Galarraga did.
So Hayden Lake, Idaho -- home office of the perfect game -- was the perfect place to start.
"It's really very sad," an 80-year-old fisherman named Don Larsen said. "Those things don't come along ...

Read full story
MISSED PERFECTION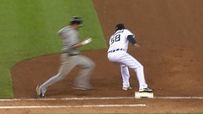 STORIES
VIDEO
POLLS
AUDIO