Discussion
Point guards shine during trials
Updated:
June 10, 2010, 2:35 PM ET
By
Chris Hansen, Mark Lewis and Kelvin Powell
| HoopGurlz
COLORADO SPRINGS, Colo. -- Wednesday's evening session brought the USA Basketball U17 and U18 National Team trials beyond the halfway point. Three sessions are in the books, and just two remain for players to prove their worth.
Strong play from the point guard position in both trials provided a theme for the early going, and three underclassmen are featured for their three stellar sessions.
Brittany Boyd -- U18: During each session of both the U17 and ...

Read full story
USA BASKETBALL TRIALS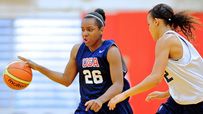 The nation's top players are competing for roster sports on USA Basketball's U17 and U18 teams. HoopGurlz Index

•
Tip sheets:
Three »
Two »
One »
•
U17 team characterized by speed
•
Selection process lacks clarity
•
U18 basketball roster announced
•
U17 basketball roster announced
•
U18 finalists announced
•
Podcast: U17 roster predictions
•
Podcast: U18 roster predictions
•
Bigs step up in second half of trials
•
Podcast: Recapping the trials
•
PG play highlights first half of trials
•
Snubs sparks Crook-Williams' resurgence
•
USA Basketball invites lead to confusion
•
Women's U18 team trials roster
•
Women's U17 team trials roster