Discussion
Kiffin not first to endure sanctions
Originally Published:
June 10, 2010
By
Ivan Maisel
| ESPN.com
The dawn of Friday will bring the first full day of the rest of USC coach Lane Kiffin's career. Kiffin left Tennessee for an all-you-can-eat Trojan Buffet only to discover that he must survive on 15 scholarships a year for the next three years. Talk about your subsistence diets.
Living with scholarship cuts and bowl bans is as severe as the NCAA intended. Coaches who have endured under those conditions say there are steps that Kiffin and his staff can take that will numb the pain. But it ...

Read full story
FALL OF TROY?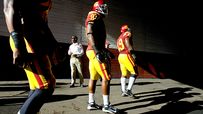 The NCAA released its sanctions against USC on Thursday, doling out penalties that include postseason bans and scholarship reductions, among others, for the football and men's basketball programs.
Story »
News
Football analysis
ESPN L.A.'s take
Basketball analysis
Video
ESPN Radio
SportsNation