Discussion
Two new names join USA's U17 roster
Updated:
June 11, 2010, 6:22 PM ET
By
HoopGurlz
COLORADO SPRINGS, Colo. -- The trials are over and the USA Basketball selection committee for the U17 national team has rendered its verdict. The theme is nearly identical to a year ago, with only two new faces combined with 10 players selected for last year's U16 team.
The USA will compete in the inaugural FIBA U17 World Championship July 16-25 in Rodez and Toulouse, France.
The newcomers are 5-foot-10 guard Bria Smith from Christ the King High School in New York and 6-5 post ...

Read full story
USA BASKETBALL TRIALS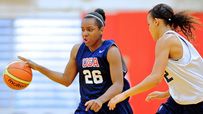 The nation's top players are competing for roster sports on USA Basketball's U17 and U18 teams. HoopGurlz Index

•
Tip sheets:
Three »
Two »
One »
•
U17 team characterized by speed
•
Selection process lacks clarity
•
U18 basketball roster announced
•
U17 basketball roster announced
•
U18 finalists announced
•
Podcast: U17 roster predictions
•
Podcast: U18 roster predictions
•
Bigs step up in second half of trials
•
Podcast: Recapping the trials
•
PG play highlights first half of trials
•
Snubs sparks Crook-Williams' resurgence
•
USA Basketball invites lead to confusion
•
Women's U18 team trials roster
•
Women's U17 team trials roster